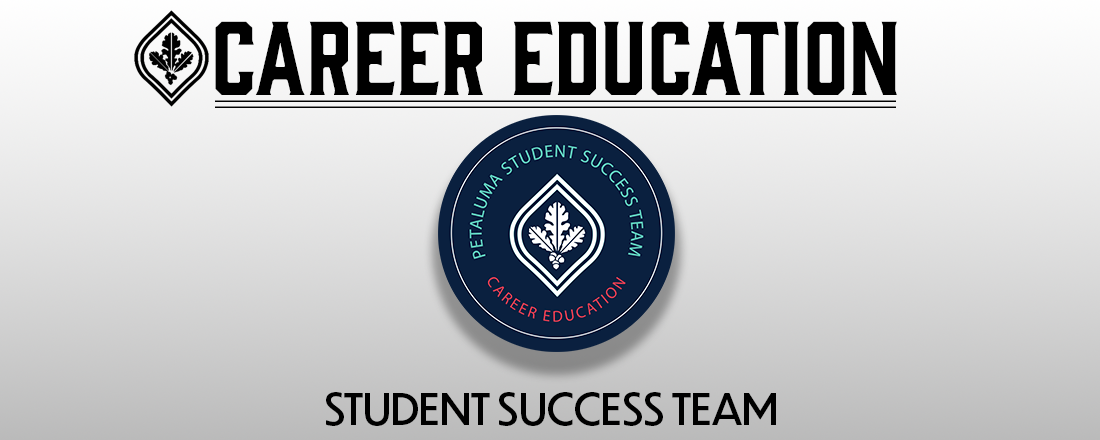 In alignment with Strong Workforce Metrics, the Petaluma Career Education Student Success Team
is committed to providing More and Better CE at Santa Rosa Junior College.
Utilizing best practices that increase
rates of retention
persistence
successful completion of certificates or degrees
The team focuses on creating relationships with students to guide them through their educational journey, overcoming potential roadblocks to success, enhancing and developing their soft skills, ultimately leading to successful employment in their field of study
Skills We Focus On
Communication
Communication skills are necessary in the work force. It is applied to all fields. Specifically, public speaking, journalism, radio, etc. We can help you improve your communication skills by holding workshops or having individual meetings.
Collaboration
Collaboration is important in any career path because most professional work cannot be done alone. The ability to get things done in a collaborative manner is essential to a productive career. Our team can help you improve your collaborative skills by showing you how to break down projects and divide up the work so they can be done with organization. 
Problem Solving
Problem solving is a required skill. Using common sense and logic to solve new problems and overcome obstacles will make you more valuable in the work force. Our coaches can help with common problem solving skills and through practice it can be applied and evolved to solve more complex problems.
Networking
Networking is essential to career building. Meeting the right people and having the right contacts can get you where you need to be. We here at the Student Success Team can help you find other people on campus whether its other students or instructors to talk to and build your network. 
Grit And Completion
The ability to get things done is a skill employers will look for. It shows that you are persistent and will get tasks done. 
Petaluma Career Education Programs
Child Development: Associate Teacher's Certificate
Computer Studies: Cisco Certification Training in CCNA Certificate
Computer Studies: IT Support Certificate
Digital Media Audio Certificate
Emergency Care for 1st Responders Certificate
Fitness Health and Nutrition Certificate
Veterinary Technician Certificate
Wastewater Treatment Operations Certificate
Wastewater Operator Certificate
Water Distribution Certificate
Water Utility Operations Certificate
Fitness Health and Nutrition AS