Petaluma Student Success & Career Education Student Success Team
Fall 2022 Workshops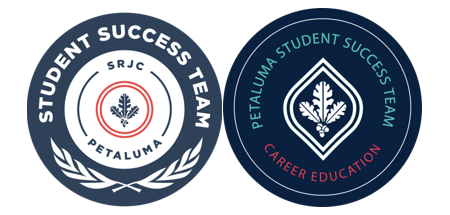 ---
Student Success Workshops are designed to provide you with strategies to enhance your academic learning. All workshops are organized, designed, and led by Student Success Peer Coaches.                No registration is necessary. 
Unless otherwise noted, all workshops will be held in the
Student Engagement & Success Center on the Petaluma Campus.
Mike Smith Hall, Building 500, Room 114
---
Get Set Up for Success!
Wednesday, August 17th — 12:15 pm - 1:00 pm
Welcome!
New Year, New Goals. Join your peers in a discussion of new year goals, and ways to make them stick! And make sure you are set up for a successful semester.
Syllabus: The framework for your class; lists due dates and class expectations.
Office Hours: Provides early opportunities to connect with your professor.
Canvas: Where you can access assignments and important documents.
Grades: Can see grades on Canvas—but be careful! They're not always what they seem.
---
Navigating College as a 1st Generation Student
Wednesday, Sept 14th — 11:15 am - 12:00 pm
Are you the first in your family to go to college? This workshop helps first generation college students. In collaboration with EOPS, we will answer unasked questions students might have and help with questions you might have about college. 
---
Career Education Student Success: Search and Prepare for Internships
Wednesday, September 21st — 12:15 pm - 1:00 pm
Want to connect your classroom to the job market? Learn what steps you can take while earning your certificate or degree that can help you get an internship in your field of study. 
Zoom: https://santarosa-edu.zoom.us/j/93785695369
---
Career Education Student Success: Communication & Collaboration
Wednesday, October 12th — 12:15 pm - 1:00 pm
Communication is something you do everyday - could you do it better? This workshop will help you evaluate your own skill level and ensure greater success in the workplace, in the classroom, and in life. Let's learn how to make a dream team and ese the process of finishing important tasks at hand.  
Zoom: https://santarosa-edu.zoom.us/j/93785695369
---
Finding Time
Thursday, October 20th — 12:15 pm - 1:00 pm
Let's share ways to get time on your side, leaving time for yourself. This workshop will help you create a better online environment to better manage your time.  
---
Career Education Student Success: Self Advocacy & Resilience in the Workplace
Wednesday, November 2nd — 5:15 pm - 6:00 pm
Learn how to improve your advocacy skills in the workplace, identify your communication style and strengthen your confidence to achieve the most satisfying outcomes for your future. 
---
How to Study for Success 
Thursday, November 3rd — 12:15 pm - 1:00 pm
What is studying? It's more than memorizing the quadratic formula. It's about dedicating time to prioritize your daily activities, keeping your mindset on track for success. Come join us to hear about our tips on note taking methods, improving your ability to focus, not procrastinate, and overall motivating yourself to study for success!
---
Express Yo' Stress
Wednesday, November 16th — 12:15 pm - 1:00 pm
Finding a healthy balance between work, life, and school can be a very difficult to achieve. Come join us for a discussion to talk about how to take care of yourself and how to create a healthy balance in your life.
---
Finish the Semester Strong
Thursday, December 1st — 12:15 pm - 1:00 pm
YOU DID IT! The end of the spring semester is coming right up. Come find out what steps you can take to prepare to finish the semester strong and reach your goals.