All people coming to campus for INDOOR events must follow the COVID safety protocol: show proof of full vaccination or have an approved exemption on file. See Vaccination requirement here.
Sonoma County Student Film Festival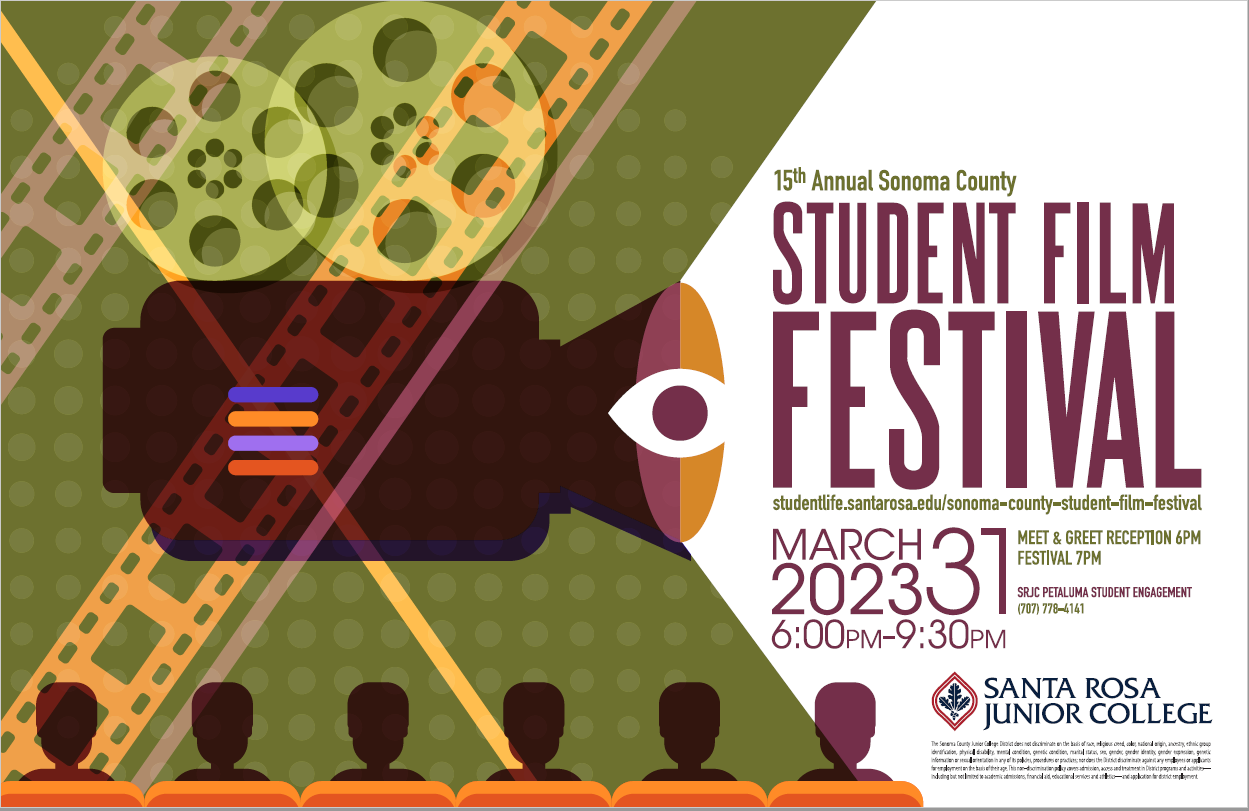 The 15th annual Sonoma County Student Film Festival is on Friday, March 31st. Details and tickets at https://studentlife.santarosa.edu/sonoma-county-student-film-festival
Sanación de Pueblo 4/4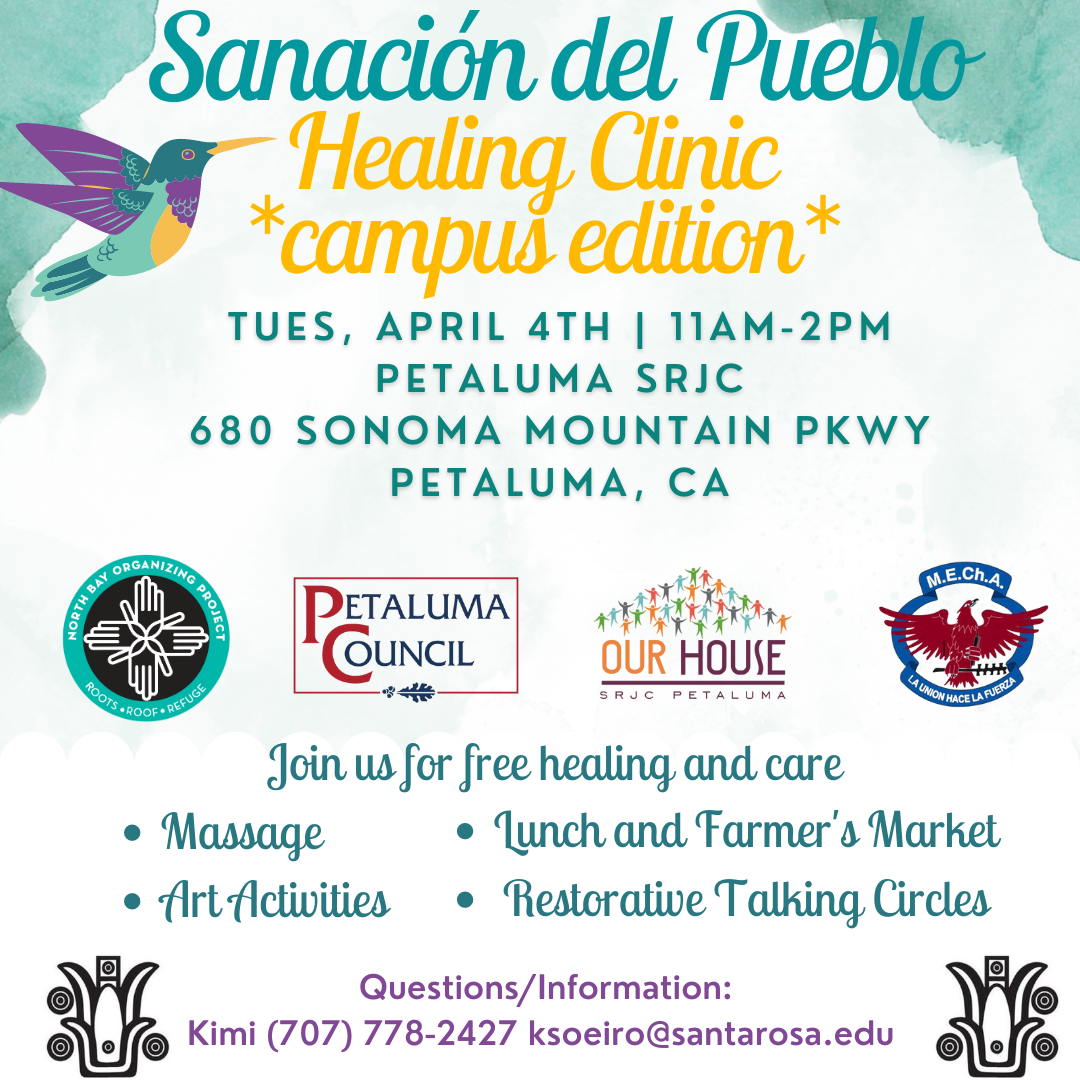 Sanación del Pueblo (community healing) Campus Edition is coming to SRJC Petaluma, Tuesday April 4th from 11am-2pm! This event is collaboration with Our House Intercultural Center, Petaluma Council, North Bay Organizing Project and MEChA de SRJC to help build a bridge for students experiencing stress and what we have heard as a desire for more support for mental health and physical wellbeing. We will be hosting this event on the same day as SRJC Petaluma's Fresh Farmer's Market and will also be offering lunch to students, as well as massage therapy, herbal workshops, art workshops, yoga led by the SRJC Petaluma's Yoga Club, and restorative listening circles. This event will be held outside in the areas by Our House Intercultural Center and the Welcome and Connect Center. The event, including listening circles, has bilingual capacity (providers and volunteers available to help) and we encourage monolingual Spanish speaking students to participate. We hope that students will experience a sense of support and relief as well as share their experiences and ideas on how to build a caring and supportive campus community.
Free Farmer's Market 4/4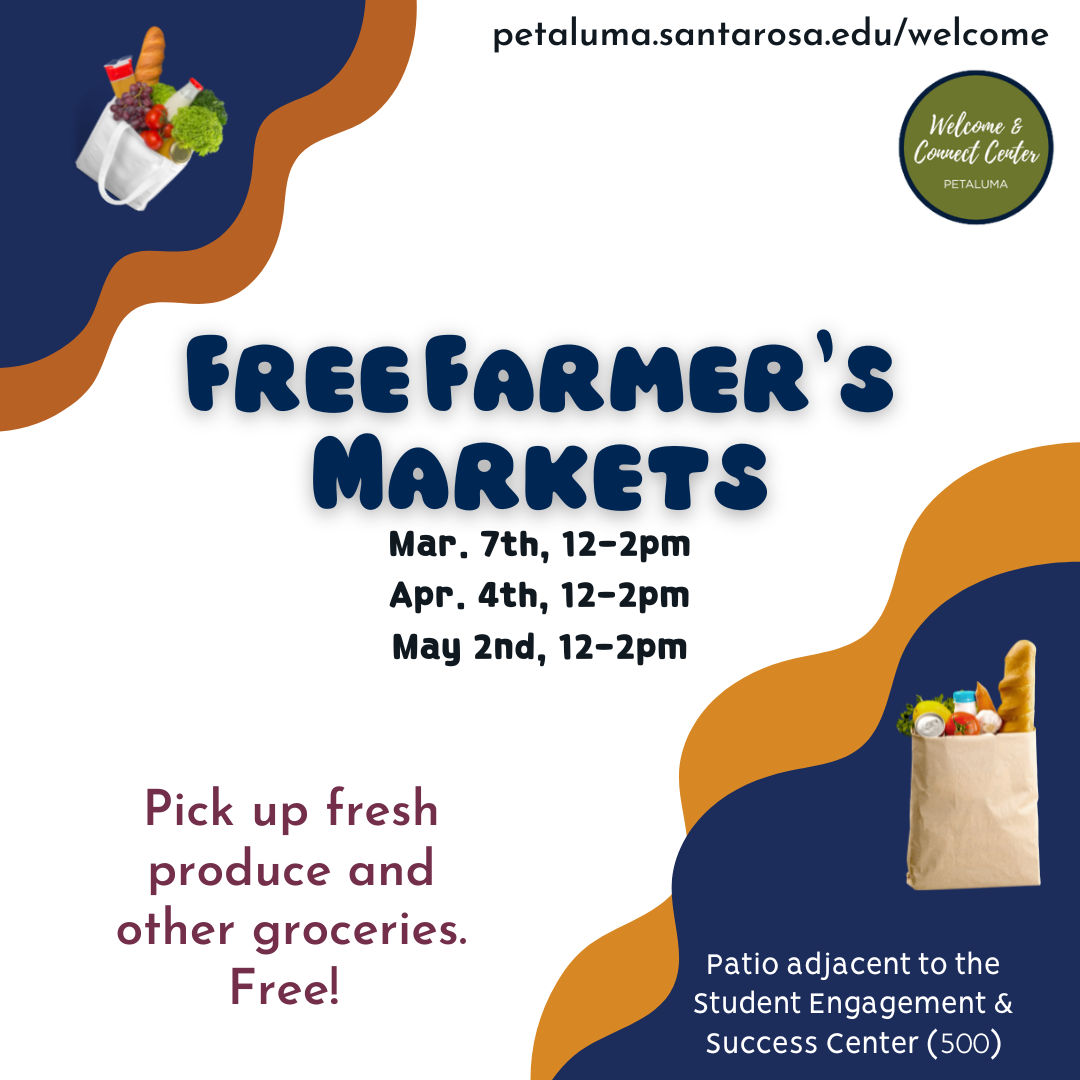 Join us at the next Free Farmer's Markets on April 4! Open to all students, regardless of income or CalFresh eligibility.  
Can't make it? Leftover produce and groceries will be available in the Welcome and Connect Center's Food Pantry after the event while supplies last. Quick meals and dried goods are always available in the Food Pantry during hours of operation. Please create a profile with Redwood Empire Food Bank prior to this event. If you already have one, then you are all set. Contact the Food Bank (707-523-7903) if you need assistance in setting up a profile. https://refb.org/programs-initiatives/w5-project.html#_blank