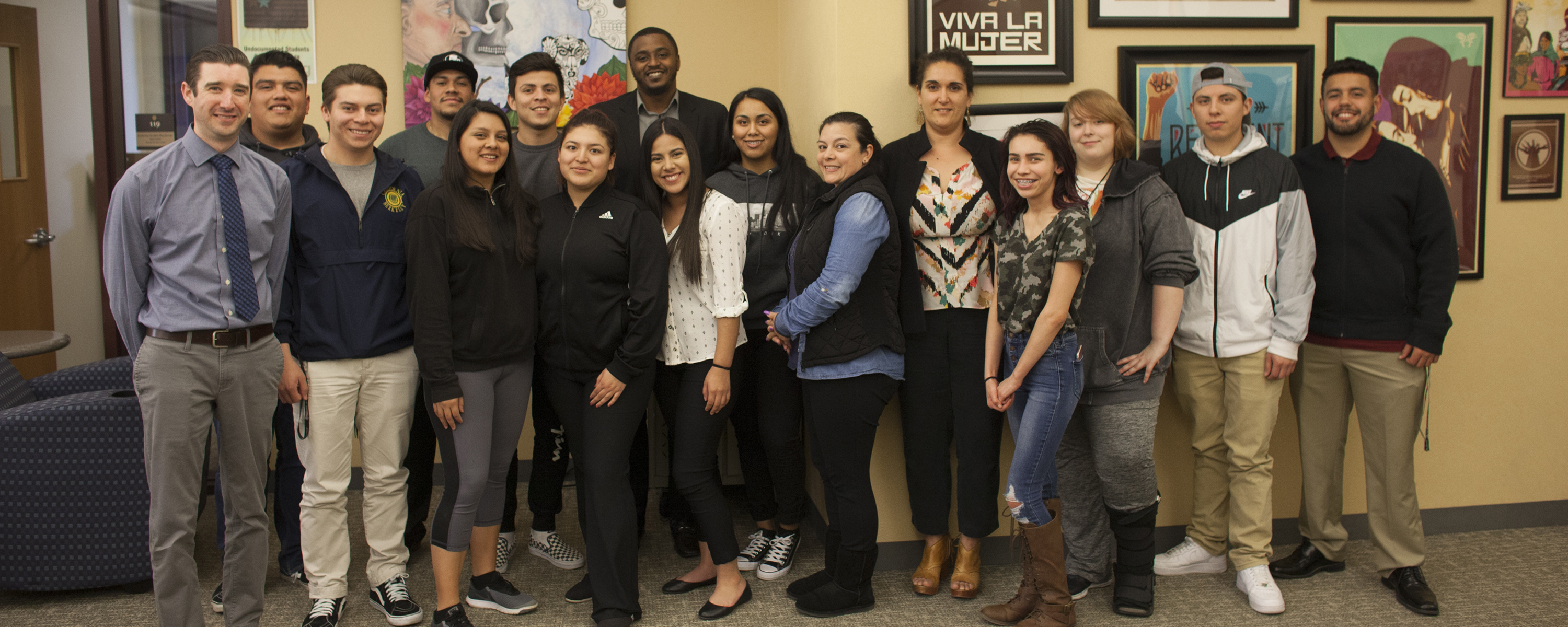 Our House is a radically inclusive space where students form bonds across difference and find a sense of home. Beyond simply providing a "safe space" for diverse students, Our House offers opportunities for deep levels of student engagement through consciousness-raising activities and multicultural events that range from musical performances to art workshops to guest talks by social-justice activists. It's also a comfortable place to hang out, study, hold club meetings, and meet with staff who are here to help you thrive in your studies and in life.
---
Calling all local muralists! We're looking for an artist or artist team to paint an outdoor mural that represents of the dynamic and inclusive culture of Our House, located in the heart of Petaluma Campus. In theme and composition, the mural should reflect Our House's vibrant student life and serve as a visual anchor to attract and welcome students and community members into the unique space. To be considered, submit a 200-word proposal by Oct 2. PROPOSAL FORM AND FURTHER INFO >>>>
---
FALL 2021 EVENTS
You attendance at any of the events highlighted below can qualify you to enter a drawing for Airpods. Read more here: welcome.santarosa.edu/events
Accessibility Note: If there is a Deaf participant who requests interpreting services to access your event, please contact the Interpreting Services Office at least one week prior to the event to make arrangements. InterpretingServices@santarosa.edu, or send a text to (707) 230-3895.
---

  What Is Chicanx and Latinx Studies?
  Presented by Drs. Melissa Moreno and Amanda Morrison
  Tuesday September 28, 10:30am-12:00pm
  Event recording: https://screencast-o-matic.com/watch/cr613eVXlUU
  Chicanx Studies profes Melissa Moreno (Woodland Community College) and Amanda Morrison (Sonoma State University and Our House Coordinator) share the inspiring story of how student activists organized to bring Chicanx and Latinx studies into college and K-12 curricula. Together we'll explore ongoing strategies, efforts, and demands to ensure that Latinx history and culture is reflected in our schools.
---

  Poetry Reading Featuring Sara Borjas, Christopher Soto, and Joshua Escobar
  Co-presented by SRJC Libraries
  Monday October 4, 10:30am-11:45am
  Event recording: https://youtu.be/xYsuE1-86Ko
  Sara Borjas, Christopher Soto, and Joshua Escobar are all accomplished young poets and educators whose cultural work pushes the boundaries of art and activism. Self-identified "Xicana pocha" poet Sara Borjas works to decenter whiteness in literature and daily life. Christopher Soto represents for the Undocupoets community and published Nepantla, the first major literary anthology for queer poets of color in the U.S. Joshua Escobar explores queerness, nightlife, and southern California's Inland Empire. Each will read from their work followed by a short discussion and Q&A about craft, community, and identity.
---

  Launching Careers with "Liberal Arts" and Ethnic Studies Degrees
  Co-presented by SRJC Career Hub and SRJC Transfer Center
Wednesday November 17, 11:30am-12:45pm
Event recording: https://www.3cmediasolutions.org/node/21581
Are you worried that the subjects you're interested in—things like culture, identity, antiracism, and social justice—don't correspond to majors that lead to good jobs? Are comments like "how are you going to make money with that?" nagging at you? This panel of young professionals is here to ease your worries and show how getting a degree in the "liberal arts" (which includes sociology, anthropology, ethnic studies, history, English, art history…basically, everything in the humanities and social sciences) is an exciting career path.
Panelists:
Skylaer Palacios, Healdsburg City Council Member, B.A. in Liberal Studies, Sonoma State University
Brenda Martinez, Corporate Philanthropy Professional, Salesforce, B.A. Ethnic Studies, St. Mary's College of California
Edward Beanes, Career Exploration Coordinator, Cerritos College, B.A. Sociology with Ethnic Studies focus, University of Oregon
---

---
ON HIATUS BUT COMING BACK IN PERSON!

SRJC Petaluma Queer Student Union
Club email: srjcqsupetaluma@gmail.com
Website: https://srjcqsu.carrd.co/
Instagram: https://www.instagram.com/srjcqsu/
The SRJC Petaluma Queer Student Union has gone on hiatus until campus reopens fully. If you're interested in joining or learning about upcoming events and activities, get in touch! Email us at srjcqsupetaluma@gmail.com and we'll put you in the loop.
---