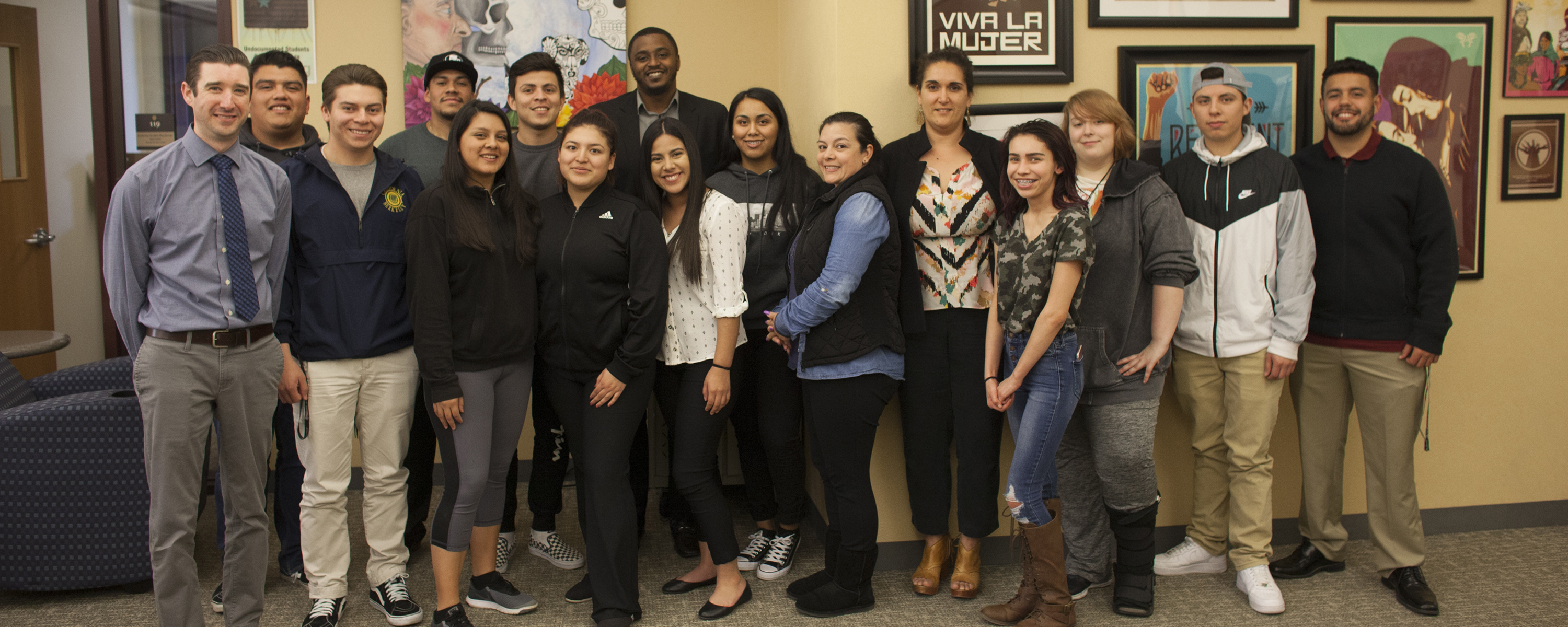 Our House is a radically inclusive space where students form bonds across difference and find a sense of home. Beyond simply providing a "safe space" for diverse students, Our House offers opportunities for deep levels of student engagement through consciousness-raising activities and multicultural events that range from musical performances to art workshops to guest talks by social-justice activists. It's also a comfortable place to hang out, study, hold club meetings, and meet with staff who are here to help you thrive in your studies and in life.
---
HOSTED GROUPS & CLUBS

SRJC Petaluma Queer Student Union
Wednesdays 11:30am – 1:00pm
Zoom ID: 539 211 1237
Club email: srjcqsupetaluma@gmail.com
Website: https://srjcqsu.carrd.co/
Instagram: https://www.instagram.com/srjcqsu/
We are still here: the SRJC Petaluma Queer Student Union's purpose is to support the social, political, and academic success of all LGBTQ+ students and allies! Check out our Instagram @srjcqsu for updates and email us at srjcqsupetaluma@gmail.com to get added to our email list for further information!
---
FALL 2020 EVENTS
  Vote! Organize! How Students Can Flex Their Political Power
  Workshop by North Bay Organizing Project (NBOP)
  Wednesday Sep 9, 1:00pm-2:30pm
  Zoom link: https://santarosa-edu.zoom.us/j/94742588157
Social injustice is pervasive and it's easy to feel powerless. NBOP offers an antidote with this "how-to" workshop on effective political organizing strategies including nonviolent direct action, voter engagement, and cultural campaigns. It's also a chance to get involved in NBOP's campaigns: Rights of Mother Nature, Housing Rights, and Immigrant Defense—summed up as "Roots, Roof, and Refuge." Come find out some ways to use your power to create the world you want to see and live in.
---
  America in Black and Brown Talk by Dr. Amanda Morrison
  Tuesday September 15, 3:00pm – 4:15pm
  Zoom link: https://santarosa-edu.zoom.us/j/7077782427
From the collaborations between the Black Panthers and the Brown Berets in the sixties to the simultaneous birth of hip-hop and salsa in 1970s New York, Black and Latinx communities have converged in fascinating ways throughout U.S. history. We'll explore some shared experiences but also look at important differences and unequal ways that African Americans and Latinas/os have been racialized within the Americas.
---
  Undocumented Student Week of Action
  October 19 – October 23
  Website: https://outreach.santarosa.edu/undocumented-student-action-week
Undocumented, DACAmented, and other immigrant students have access to public higher education in California. Santa Rosa Junior College is proud to support these students as they achieve their academic and personal goals and is committed to serving all students regardless of their immigration status. A wide range of live webinars and pre-recorded workshops will be offered for students, classified professionals, faculty, administrators and community members throughout the week.
---
  Nana Dijo: Irresolute Radiography of Black Consciousness
  Documentary Screening and Performance by Rapper Bocafloja
  RESCHEDULED DATE: Wednesday October 21, 5:30pm – 7:00pm
  Zoom link: https://santarosa-edu.zoom.us/j/98746509844
Internationally acclaimed Afro-Mexican rapper and multidisciplinary artist Bocafloja will screen his poetic 37-minute documentary Nana Dijo (2015) and follow it up with a spoken-word performance plus Q&A. Shot in Honduras, México, Uruguay, Argentina, and the U.S., the film explores Afro-Latinx identity, much as Bocafloja's music does: he is a leading voice on decolonization, indigenous rights, black-and-brown unity, and anti-black racism in the Americas.
---
 

View the full Herencia calendar of events in recognition of Latinx Heritage Month. CLICK HERE >>>

---
  Hip-Hop Legend DJ Kuttin Kandi
  Thursday October 22, 12:00pm-1:30pm
  Zoom link: https://tinyurl.com/y2lwsdjl
Hip-Hop DJ extraordinaire, author, and activist DJ Kuttin Kandi is a founding member of New York-based world champion DJ crew 5th Platoon and the first female turntablist to place in the prestigious DMC USA finals. As someone who identifies as Filipina, queer, feminist, and disabled, Kandi uses her unique intersectional perspective to fight for social justice in her work as an educator and organizer. Co-hosted by SRJC APASS.
---
  Altars & Ancestors: Presentation by Amanda Ayala
  Thursday October 29, 2:30pm-4pm
  Zoom link: https://santarosa-edu.zoom.us/j/7077782427
Local artist and SRJC alum Amanda Ayala will share her vision of "altars everywhere" in this open discussion in honor of El Dia de los Muertos. Ayala sees altar-building as a way to cultivate gratitude, faith, reverence, and connectedness in our lives, all year round.
---
  Black Lives Matter Leader Cat Brooks
  RESCHEDULED DATE: Monday November 2, 2:00pm – 3:30pm
  Zoom link: https://santarosa-edu.zoom.us/j/7077782427
During the 2009 protests of the police killing of Oscar Grant in Oakland, Cat Brooks emerged as a leader in the struggle against state violence. She continues that work as a co-founder of the Anti Police-Terror Project whose mission is to rapidly respond to—and ultimately eradicate—police violence from communities of color. She's also a playwright, KPFA radio host, and former Oakland mayoral candidate.
---
  Post-Election Debrief and Open Forum
  Wednesday, November 4, 12 pm-1:30 pm
  Zoom link: https://santarosa-edu.zoom.us/j/96064299587
Students are invited to debrief on the election with SRJC sociology faculty Dr. John Stover, SRJC political science faculty Jeanette Ben Farhat, and Our House Coordinator/SSU Chicano and Latino Studies faculty Dr. Amanda Morrison. Hosted by Our House, Petaluma Campus' Intercultural Center.
---
COMING UP IN SPRING 2021
Friday April 16, 2021
We the Future is a day-long conference aims to raise consciousness and inspire action. Our theme this year is "POWER IN NUMBERS." We're exploring issues of citizenship and non-citizenship, franchise and disenfranchisement, cultural and global citizenship, civic engagement and public commons, counting and being counted, and being heard.