Our House is a radically inclusive space where students form bonds across difference and find a sense of home. Beyond simply providing a "safe space" for diverse students, Our House offers opportunities for deep levels of student engagement through consciousness-raising activities and multicultural events that range from musical performances to art workshops to guest talks by social-justice activists. It's also a comfortable place to hang out, study, hold club meetings, and meet with staff who are here to help you thrive in your studies and in life.
---
HOSTED GROUPS & CLUBS

SRJC Petaluma Queer Student Union
Wednesdays 11:30AM – 1:00PM
Club email: srjcqsupetaluma@gmail.com
Website: https://srjcqsu.carrd.co/
Instagram: https://www.instagram.com/srjcqsu/
We are still here: the SRJC Petaluma Queer Student Union's purpose is to support the social, political, and academic success of all LGBTQ+ students and allies! Check out our Instagram @srjcqsu for updates and email us at srjcqsupetaluma@gmail.com to get added to our email list for further information!
---

10,000 Degrees (10KD)
Virtual Office Hours
Program Manager's email: hwaters@10000degrees.org
Instagram: https://www.instagram.com/srjc10kd/
The 10,000 Degrees SRJC team is still available virtually for all students. The team is here to support you through video or phone meetings on things like financial aid advising, transfer success, navigation to resources, and much more. Please follow the team on Social Media to learn more @srjc10kd.
---
SPRING 2020 EVENTS

"Black Futures: On Mermaids, Resilient Interventions, and Environmental Catharsis"
Workshop with Teju Adisa-Farrar
Wednesday February 5, 12:00PM – 1:30PM
In honor of Black History Month, Bay Area cultural geographer, urbanist, environmentalist, and poet Teju Adisa-Farrar will lead a workshop on black geographies and racial justice. 
---

SRJC For Free! Financial Aid Workshop
Wednesday February 5
11:00AM – 1:00PM, Student Success Center (PC 690)   OR
5:00PM – 7:00PM, Our House Intercultural Center (PC 116)
It's not too late to apply for financial aid—not just for next school year, but for this current one! See if you qualify for FREE MONEY to go to college… lots of students do. All you have to do is fill out an application. SRJC Financial Aid expert staff will be on hand to help get it done and get your money on! 
---

​Right to a Roof!/Derecho al Techo Workshop with North Bay Organizing Project (NBOP)
Wednesday February 26, 10:30AM – 12:00PM
Do you seek to live in a society where dignified housing is accessible to all, with no one sleeping on the streets, and working families live without fear of eviction, displacement, and harassment? Learn how to get involved in the fight for fair housing in Sonoma County, one of the most expensive places to live in the U.S.
---

"Moon Mujeres" Painting Plática with Amanda Ayala
Wednesday March 4, 10:30AM – 12:00PM
In honor of Women's History Month, Sonoma County artist and SRJC alum Amanda Ayala will lead a Chicana-feminist themed painting workshop focused on the motif of la luna (the moon).
---

Best Practices for Serving Undocu & LGBTQ Students
CANCELLED--RESCHEDULED DATE TBD
Let's build our cultural competency and make sure all students feel safe. Learn the difference between terms like "undocumented" and "dreamer" and get clarity on queer-friendly ways to use gender pronouns. 
---

National Poetry Month Workshop with July Westhale
Wednesday April 8, 11:30AM – 1:00PM
Join via Zoom:
https://4cd.zoom.us/j/4598823802
Award-winning author July Westhale will present a poetry workshop exploring LGBTQ+ themes, in partnership with SRJC Petaluma's Queer Student Union (QSU).
---

We The Future Social Justice Confernce
POSTPONED TO APRIL 2021. RESCHEDULED DATE WILL BE ANNOUNCED SHORTLY
We the Future is a day-long conference aims to raise consciousness and inspire action. Our theme this year is "POWER IN NUMBERS." Given that 2020 is the year of a presidential election and a U.S. Census survey, we're exploring issues of citizenship and non-citizenship, franchise and disenfranchisement, cultural and global citizenship, civic engagement and public commons, counting and being counted, and being heard.
---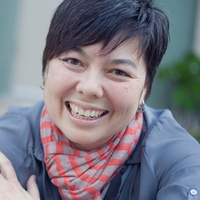 Food, Bodies + Liberation: An Interactive Talk with Syd Yang of Blue Jaguar Healing Arts
April 22, 2020, 11:30AM-1:00PM
Zoom link:https://us02web.zoom.us/j/83260535391?pwd=dDVtTGlMZjluN0VLWXBEQVNpa0l6UT09
Password: 070522
Do you long to feel free — every day — in your body? What might your body liberation look and feel like, given our collective histories with food, self-criticism and trauma? And what now, within this pandemic? How is this moment affecting you, your relationship to your body and/or food? With all that is going on in the world, how is your body remembering ways to love itself? How might you find more balance (and even liberation) within your practices of survival? Join Syd Yang of Blue Jaguar Healing Arts for a conversation on ways to hold our bodies in tenderness, when food and eating and body-centered care feel complicated and dangerous.
---

Queer Student Union (QSU) Speaker Series:
L.D. Green, "Mental Health in the Age of Perpetual Crisis"
Wednesday April 29, 11:30AM - 1:00PM
Follow QSU on Instagram @srjcqsu for the Zoom link!
L.D. Green (they/them) is a genderqueer writer, performer, college educator, and mental health advocate who will be doing a talk titled "Mental Health in the Age of Perpetual Crisis: A Facilitated Discussion About Accessing Inner and Outer Resources for Wellness."
---

La Cultura Cura: Virtual Art Party
Wednesday, May 6, 2020, 4:00 PM-5:30 PM
Zoom link: https://zoom.us/j/7075274410
Whether your thing is doodling, making TikTok videos, or oil painting, art is giving folks life right now. Time for a virtual party, complete with creative projects shared by local artists, and plenty of time to share your work. All participants are entered into drawing for drawing for a gift basket from Rileystreet Art Supply. Featured artists: Amanda Ayala of LandPaths, Martin Zuniga of Sonoma County Museum, and Isabel Lopez of Raizes Collective.
Brought to you by Our House, Student Success, and the Welcome & Connect Center.
---

Mindfulness Meetups
Tuesdays, May 12 & May 19, 2020, 11:30 AM-12:00 PM
Zoom link:  https://zoom.us/j/91426703763
We'll use the practice of guided meditation to reduce stress, improve health, and build community. Come sit with us!